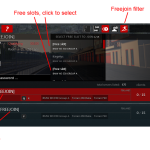 Annoyed by the clumbersome booking system in recently released multiplayer for Assetto Corsa, I wanted to see if something could be done to improve it. I came up with a system that uses prebooked slots and a specially prepared client to join those slots at any time.
Experimental version for AC early access v0.9.10 is available here. It requires the client to install a modified online interface module and a server to be running a special version. See the readme there for additional information.
While it allows joining a server at any time it has some limitations. Mainly you can only select from cars that the server has prebooked and annoyingly when a race is over the session will never end until all clients have disconnected.
edit: Freejoin updated to version 1.20 with better compatibility and various fixes. See the Freejoin page for more info.