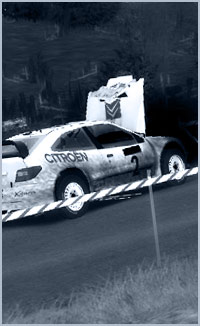 Here's some misc stuff for SCi/Warthog's Richard Burns Rally...
Exports all stage records from RBR to a HTML file, also supports online result comparison.
Command-line DAT file extractor/repacker.
Replaces the default pacenotes with numeric pacenotes. With two versions, 'increasing' and 'decreasing'.
A little "hack" that adds a glare postprocessing effect, enables minihud during replays, allows time acceleration/deceleration during replays, adds an FPS meter, allows recording fixed-framerate AVI's, enables new camera views, allows editing stage pacenotes, adds mod directory support, allows different car setup slots for each rally and allows to force the game to run in a windowed mode.
My stage records and some video clips.
Links to other RBR related sites.
by Kegetys. Valid HTML 4.01 & CSS level 2.
-->